Long-term Work Disability After Auto Injury
Car accidents aren't only costly when it comes to repairing or replacing your automobile, they can seriously impact your family's financial outlook . This is found to be especially true if your auto injury is whiplash-related.
Whiplash and Your Work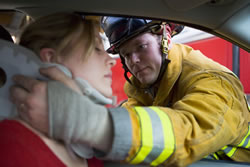 Researchers in one study looked at 3,308 individuals who suffered from either whiplash or some other musculoskeletal disorder. They kept track of when the participants were able to return to work to resume their normal job duties and thereby support their families. The results were alarming.
Of the persons studied, only 18% of the whiplash victims had returned to work six months after sustaining their injury, whereas the individuals who had the musculoskeletal disorders had a 43% return to work rate – more than twice as high. Two years later, a total of 58% of the patient's with musculoskeletal disorders were able to get back to their job, but only 44% of the whiplash sufferers could say the same.
This shows how serious whiplash-associated disorders can be, especially if you're suffering from chronic symptoms. Not only do whiplash injuries limit your work capacity in the short term, they often lead to long-term consequences for your career and financial stability.
Your Stamford Chiropractor Can Help Auto Injuries
While these numbers certainly aren't the greatest and can make you leery of ever expecting or experiencing a full recovery after a whiplash type of auto injury, regular visits to Dr. Murphy, your Stamford chiropractor, can help. He uses only the most effective treatment techniques for manually manipulating the cervical area of your spine so that you are able to move your neck more freely and without pain.
Time off work due to a vacation or some other pleasurable event is one thing, but an extended sick leave when you're in pain is another. Call Gabriel Chiropractic in Stamford, CT today and let us help you return to work so you can better support your family financially – just like you always have!
Reference
Biering-Sørensen, et al. The return-to-work process of individuals sick-listed because of whiplash-associated disorder: a three-year follow-up study in a Danish cohort of long-term sickness absentees. BMC Public Health 2014; 14:113 doi:10.1186/1471-2458-14-113