Working with a Chiropractor After an Auto Injury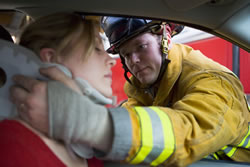 Were you involved in a car accident in the Stamford area? Working with a chiropractor after an auto injury is a smart decision. Chiropractic medicine is a system of natural healing focusing on the musculoskeletal and nervous systems, including nerves, spinal discs, muscles, bones, joints, tendons, and ligaments.
Research studies have proven that in a car accident, damage to the nerves, bones, cartilage, and discs are not only possible but occur often. That's why you should know the most important things that matter to your Stamford chiropractor, Dr. Murphy. Here's a list of some of them:
What happened during the car accident? Were you looking straight ahead?Wearing a seat belt? Was your body turned in any way at the moment of impact? Was your car hit once or multiple times? Do you have a headrest on your seat in the car? What type of car do you have? How much damage was done to the car? The answers to these questions will help your Stamford chiropractor determine potential auto injuries based on the positioning of your body.

There are dozens of auto injuries that may result in a car crash. What symptoms are you feeling? Were you feeling any symptoms immediately after the car accident? Did any of the pain, stiffness or achy feelings appear later, such as 24 hours, 48 hours or 72 hours later after the accident? If so, be sure to tell your Stamford chiropractor the details.

Were you transported to the hospital in an ambulance or did you visit your primary care physician or an Emergency Room after the car accident? If so, what were the results of the tests done and any diagnoses of auto injuries?

What makes your pain better? What makes it worse? What body positions aggravate the pain of your auto injuries? The answers to these questions also provide vital information to your Stamford chiropractor.
Chiropractic care offers non-invasive, drugless natural healing options for treatment of those suffering from auto injuries. Ask your Stamford chiropractor about the pain relief methods such as cold laser, non-surgical spinal decompression, electrical modalities, and ultrasound, and how these can accelerate your healing from auto injuries.